Boeing Business Jet 787 – Dreamliner
Back to Overview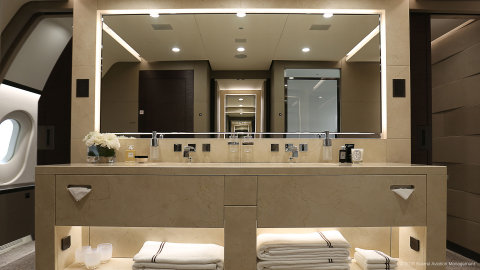 Project Manager

Kestrel Aviation Management

Completion

Greenpoint Technologies

Interior Design

Kestrel Aviation Management &
Pierrejean Design Studio Paris

Project Duration

2014 – 2016

Project Scope

Furnishing of the first BBJ 787 Dreamliner with F/LIST WOOD FLOORING made of smoked oak in the entrance area, corridor and passenger lavatory as well as lightweight F/LIST STONE VENEER real stone furniture in the main bathroom, dressing room and guest lavatory. The premium interior design is emphasized by subtle Crema Marfil marble. A distinctive product highlight is the generous double basin.

Overview

The BBJ 787 Dreamliner ranks among the largest business aircraft in the market and was first presented in 2016 at the EBACE in Geneva with a specially tailored VIP interior. The impressive cabin offers 224 m² for up to 40 passengers. The interior design couples high-quality materials like real stone and wood veneer with state-of-the-art Technology.
The video embedded above allows you a virtual tour through the interior of the entire aircraft.